You don't have to do this alone. You are not alone.
We can't always control our health, or what else life might throw at us, but we can choose to take control of our thoughts, emotions and how we act.
We can't always control what our health and medications can do to our body, but we can choose how we love her.
Are you fed up, frustrated, feeling alone with the treatment plan you're given?
Maybe you haven't been given a plan…
Maybe you're still waiting to be diagnosed.
Do you believe there's more to your future than the limitations you feel are being put upon you?
Are you ready to find new ways, YOUR ways, live a life on your terms WITH a chronic illness and not in spite of it?
Are you ready to let go of the fear, judgement, shame, anger, denial, and negativity so you can live life out loud?
Have you had enough of the journaling, the meditating, the self-help books only kinda helping? You understand how it should work, but you're still not sure how to actually make it work?
Sometimes you can really feel it's happening, your health is getting better, and then you wake up on a bad day, and feeling and thinking things will never really change…
That's the thing with chronic illnesses, sometimes it's two steps forward, one step back.
If you want to take your life back from a chronic illness you have to CHOOSE to make the SHIFT. 
Choose to take control of your thoughts and limiting beliefs and SHIFT them. To choose to create your new truth, and your new life.
You can get better control of it.
You get to choose.
There'll always be an improvement, an adjustment, to make. Because that's life. That's everyone's life.
Normal healthy people just appear to have it easier. 
In some ways, they have it harder…
I look at my illness as a gift
A gift that forced me to slow down.
Giving me time to choose the things that I really want to do.
To choose the things that really make me happy.
If you're ready to take your life back from a chronic illness, this is for YOU
My Life in Align SHIFT to Alignment 1:1 programme is built from my journey from diagnosis to living life my way, on my terms.
I'm not here to shine the torch on your current situation like most coaches do. I'm here to light your path to simplify and speed up your SHIFT.
In a safe-to-be-vulnerable, shame-free, and judgement-free space, we delve deep into the why behind the what, so that we, that's you and me, enable YOU to be the person YOU most want to be, reclaiming YOUR power and alignment to change what YOU believe is possible for happiness and fulfilment on YOUR terms for mental, physical and spiritual well-being. 
How would it feel to have more self-confidence that you can achieve what you set your heart and mind to? To have more energy, happiness, and feel excited about life?
What do you wish for? 
What does your ideal life look like?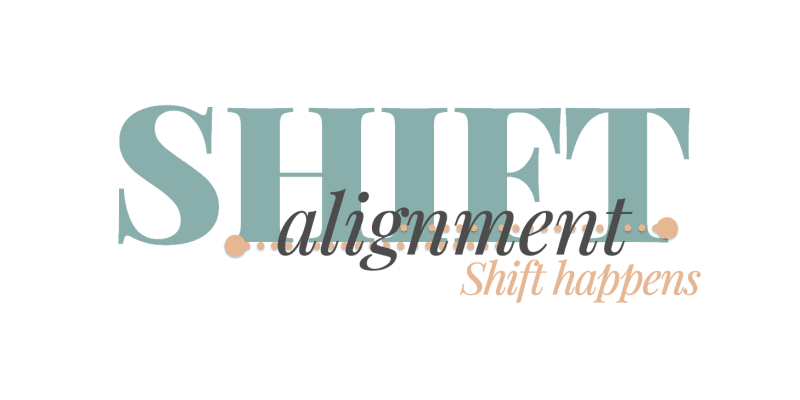 SHIFT to Alignment is an 8-week experience designed to take you from drained to sustained, chaos to calm, uncertain to confident, to become the most aligned, powerful and magical version of yourself.
SHIFT to Alignment is more than just coaching.
It's nurturing, expansive, guidance, and strategy rolled into one, and you will literally have me at the other end of the phone cheerleading as you progress, grow, and SHIFT.
We work through your personal mindset blocks, and how to take massive action on any area you want to realign.
We work through ways to work best with your body, and how to love your body, flaws and all, and see her for the powerhouse that she truly is, and much stronger than you think.
We break through barriers. We don't just slay the dragons, we dissect them and find what they've been feeding on.
We look towards focus, success, and living life on your terms.
SHIFT to Alignment includes:
weekly one-to-one 50mins zoom calls

weekly journal prompts to maximise the transformation opportunity

weekly focus planning and intention setting

weekly accountability check-ins

between-call WhatsApp support, during UK office hours
"Lorraine is an incredible coach who has transformed the relationship I have with my body and myself.
My relationship with anxiety and food has improved so much, and she's always there when I need her.
She challenges me when I need a new perspective, but she does it with love. It's what's needed for REAL growth and change!
She is the real deal!"
"I was worried about whether a coach would not understand my medical condition and suggest unachievable ideas for me.
After my initial call with Lorraine to decide whether to work with her all of these concerns were allayed, and I went into our first coaching call feeling confident that she was the right fit for me.
The experience was amazing. I learnt so much about myself and feel more confident than ever. Everything I thought was holding me back was actually not what was holding me back at all!
It wasn't about not having the right techniques, it was all about my mindset.
I feel that I'm much more resilient mentally/ emotionally. I look at my life differently, and my reactions are much more positive. I am procrastinating less, I feel more confident in myself and when I don't I can quickly snap out of it."
"I kept second guessing myself. I was kinda scared. There was a part of me that almost didn't reach out because I didn't know if I wanted to be pushed. I didn't realise how much it was holding me back, honestly.
Working with Lorraine was absolutely amazing. Beyond anything I could have thought beforehand. I have continued to grow in my confidence and in using my voice.
I've been taking what I've learned into other aspects of my life and I am, overall, feeling so much better about what I'm doing and where I'm going. In many ways."
No one can want it more than you have to.
I'd love to be able to tell you that complete recovery is possible, but we both know I'd be lying to you.  
But I can and will tell you that being able to manage and get back on track each and every time is possible. 
You have to want it, and I can show you how to do it.
If you're prepared to take responsibility and put in the work, I'll support you to find your own answers, as no one knows your life better than you.
So, let's talk. There's no commitment, but I'll encourage you to take action whether that's working with me or taking a different first step.
Great things can happen for you too
* Is this programme applicable for any chronic illness?
Absolutely! I have ME, and respiratory issues, but I use general "chronic illness" terminology. The lessons and tools learned in this programme can be used on ANY chronic illness journey. I've used these tools for many illnesses including chronic stress, anxiety, depression, IBD, cancer, POTS.
* Can I join this programme if I'm not sure what's wrong, or waiting for diagnosis?
100% yes! 
* I've always been glass half empty… will this programme help me?
If you're willing to do the work, and be open to becoming more of "fill the glass as much as you need" kinda gal, then I highly encourage you to book a free consult. You DO have the ability to change and I can help you do so!
* When are the calls?
At a time convenient for both of us, preferably the same day and time each week.  
* If I don't live in the UK, can we still work together?
Of course!  
* It's on zoom, so can I wear my pyjamas and slippers?
As long as you're comfy (and it's not inappropriate clothing).
* Will I be "cured"?
If giving yourself permission to choose what's best for you, not what's easiest/laziest, and find ways that work for you so you can live the life you want is your definition of cured, then yes.  Will I be able to wipe out your illness, unfortunately not.
* What is the time commitment?
The calls are 50 minutes. You decide how much time to put into the journal prompts and action items each week.  
* Do you read the journals etc?
Journals – no!  If you want to message and share something, great.  I read the weekly accountability forms, which you send me no less than 24hrs before our call, and we create the focus planning and intention setting together during the call for you to action before the next call.  
* What happens if I get a flare-up and get really sick?
SUCH a valid question! Thankfully, being chronically ill myself, I GET IT.  If things get really bad, we pause. If you need to miss a call one week, as long as you give me plenty of notice, we just shift you back a week.